How to back up your iPhone or iPad manually in macOS
In macOS Catalina, backing up to iTunes is no longer an option, as that app's functions have now been split into the Music, Podcasts, and TV apps. The device backup feature, meanwhile, now resides in Finder on Mac. Here's what you need to do to back up there.
Connect your device to your Mac.
Click the Finder icon in the dock.
Click on your device under Locations in the Finder sidebar.

Click Back Up Now to manually initiate a backup.
Click the button next to Back up all of the data on your iPhone to this Mac if you want your iPhone to favor backups to your Mac instead of iCloud.

Click the checkbox to enable or disable encrypting your local backups. It's highly suggested that you do this if you're going to use a local backup to move data to a new iPhone, as some data will be lost if the backup isn't encrypted.
Click Manage Backups... to view all existing device backups.

Click on any device backup you want to delete.
Click Delete Backup. Be aware that the backup might not disappear until the next time you visit the 'Manage Backups...' view.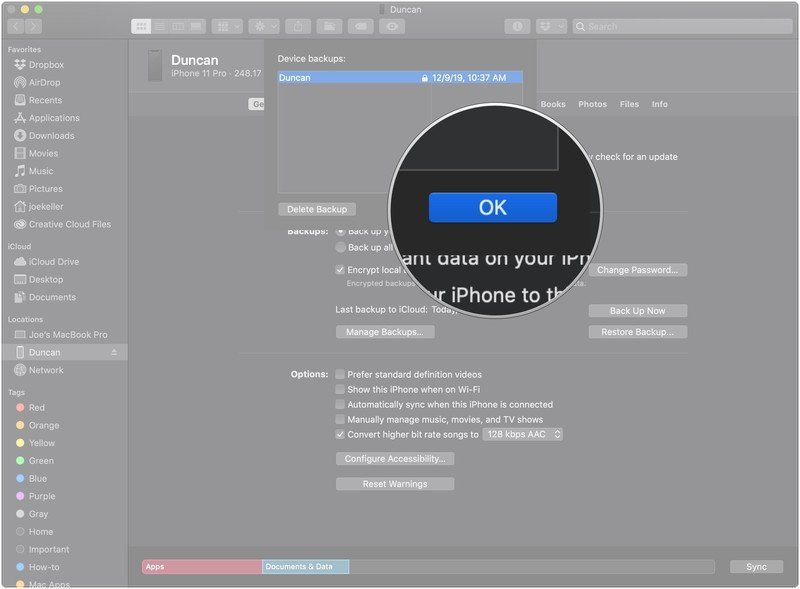 Note : If you are not Tech Savvy or not sure/aware of technical stuffs, suggest you to contact your Technical Professionals @ 13 Tech to handle the situation and provide a solution.